Social media "tweetchats" on caregiving offer a platform to connect with others and find countless resources on elder care.
As an avid, frequent user of social media, I regularly employ a great online community tool that improves my access to information on elder care. In two previous posts, I wrote about the importance of caregiver support groups and also listed some online resources for those involved in caring for seniors. Today, I'd like to go into further detail about the advantages of connecting with other caregivers on Twitter.
A TWITTER PRIMER
For those of you who aren't familiar with the social network, here's some Twitter basics.
Twitter is a web and mobile application where you can post 140-character messages, which are called tweets, to share with followers. When you tag a posted message with a particular word or phrase – a "hashtag" using the # sign – you can search for others tweeting about the same topic.
For my purposes as a caregiver, popular tags to follow include #caregiving, #eldercare, #aging, #alzheimers and #dementia, but there are many more.
Just today – as I wrote this post — a quick search on #caregiving yielded hundreds of tweets on the topic. I found out that Amy Goyer, AARP's Family and Caregiving expert, was on the NBC's Today Show earlier this morning, so I could click on a link and see a recording of the televised segment. I also discovered an audio podcast about elder care called The Aging Boomers –which I could listen to for free with one click on Twitter — as well an article about who will provide caregiving for childless baby boomers on Forbes.
I found all this with just one quick glance!
Consider the hashtag on Twitter a very powerful tool; it's a living library of resources and information on the world wide web, but you can also search locally. By allowing Twitter to know your location, you can also find out who's tweeting near you about caregiving.
TWEETCHATS
You can dive even deeper into the social network and get to know others who are caregiving through a scheduled tweetchat, which takes place when a group of people gather virtually online and use the same hashtag to track each other's tweets. Tweetchats are usually one hour in length.
A Twitter chat, which is easy to follow on applications such as Tweetchat, usually features a moderator and poses a series of numbered questions followed by participants' numbered answers. For example, when a moderator posts a question labeled "Q1," participants answer by writing "A1" before their tweet.
Another advantage to participating in Tweetchats or following specific hashtags is that you become familiar with service providers and retailers who cater to caregivers. As well, you might even pose a question and get an answer from others following the same hashtag — a strategy known as "crowdsourcing."
All in all, it's an easy way to network from the comfort of your home.
MY FAVORITE TWEETCHATS ABOUT CAREGIVING
One of my favorite tweetchats is hosted by Denise Brown (@caregiving on Twitter), founder of Caregiving.com. Every week, she goes online and moderates a chat where I get to "talk" with others interested in caregiving by following the conversation with the #carechat tag.
Sometimes tweet chats can be very specific and turn into a roundtable discussion on a particular subject. Last week, I participated in a Tweetchat focused on the hashtag #trackstress, which shed light on the amount of stress caregivers experience in their role. The conversation added momentum to the movement around a petition that encourages the Center for Disease Control and Prevention to track family caregiver stress and its source.
During the #trackstress chat, many caregivers from around the U.S. related to each other's experiences as we tackled the question: "how does caregiving stress affect you?" I was able to connect with other caregivers, all of whom were in different stages of the process. To find a transcript of this and other tweetchats, click here.
(There are other chats organized by Caregiving.com, but not all involve Twitter. For more information, click here to visit the chat schedule page.)
LIFE EDUCATION THROUGH SOCIAL MEDIA
If you've never tried Twitter before and aren't able to get out much because of caregiving, you can use the platform to share concerns with others who are dealing with the same daily challenges.
No one ever goes to "family caregiver school," which is a life education movement that I'm working on and that I'd like to see become reality so we can train on all levels of care — from what wheelchair to buy to what foods to feed to what home care service to hire for assistance — and so much more.
None of us are really prepared to become a parents to our parents. While there are so many resources with information, the process of sorting through all of it is overwhelming. Twitter and specific hashtags can provide some focus in the challenging process of caregiving for our elders as we create our own "education" online.
— Maria de los Angeles is an award-winning writer based in Miami who became a caregiver to her parents in 2008. Since then, she has been a passionate advocate for eldercare and caregiver issues.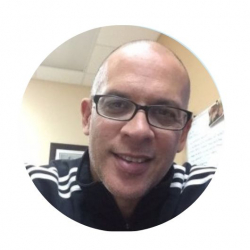 Latest posts by Claudio Alegre
(see all)