The older you are, the higher the risk of vision loss. Many eye diseases are tied to advancing age, including macular degeneration, cataracts, and glaucoma. In the U.S.:
15 million have cataracts in at least one eye
9.1 million older adults have age-related macular degeneration
3 million have glaucoma (2.7 million of those people have open-angle glaucoma)
2.5 million have diabetic retinopathy
When your dad's vision diminishes, it's important to talk to his doctor about having him see an occupational therapist. Occupational therapy makes a difference in how active your dad will remain as his vision deteriorates.
What Happens During an Occupational Therapy Session?
Your dad's occupational therapist starts by getting to know your dad and where his limitations exist. The therapist then works on exercises and measures that help him adapt to his changing environment. If he is having a hard time differentiating colors, occupational therapy may recommend putting in warning strips that help him detect when the level of the floor changes or when the faucet knob controls hot vs. cold water.
He may need adaptive devices that do things like read the label of his prescription bottles to ensure he's taking the correct pills at that time of day. He may need to learn to have technology on his TV that reads him the non-verbal character actions on a TV show or movie.
He's going to learn to do as much as he can when it comes to getting in and out of the shower with the help of grab bars, brighter lighting, and contrasting colors for guidance. He'll learn how to cook meals safely and adjust to tasks like shopping for items, taking a walk around his yard, or getting his mail.
His occupational therapist can teach him how to safely move around his home and do things for himself using adaptive equipment, a walking stick, or even with the help of a service dog. You can sit in on these appointments and learn at the same time.
What Do You Need to Do?
Talk to your dad's eye doctor and general practitioner about his changing vision. What can he do on his own and where is he going to need help? How is your dad feeling about all of this? What do other members of the immediate family want to help your dad with each week, where is he going to be on his own the most?
You've created a list of questions. You've talked to your dad's doctor. It's time to schedule a consultation with an occupational therapist. Ideally, look for an occupational therapist who will come to your dad's home. He can receive occupational therapy services without having to find a ride for each appointment.
If you or an aging loved one are considering Occupational Therapy in Sweetwater, FL, please contact the caring staff at Angel Home Care Services today. Call (305) 220-4544
A Trusted Home Care Agency in the Kendall, West Kendall, Kendall West, South Miami, West Miami, Coral Gables, Coconut Grove, Doral, Cutler Bay, Sweetwater, Florida and surrounding areas.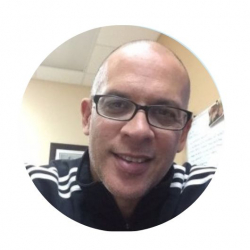 Latest posts by Claudio Alegre
(see all)