The role of a physical therapist is to assess patients' limitations and chronic pain and come up with a suitable treatment plan. For approximately three years, physical therapy students complete an 80/20 mix of classroom studies and hands-on training. Those studies include:
Behavioral science
Biology
Biomechanics
Cardiovascular and pulmonary structure
Communications
Ethics
Kinetics
Management and reasoning skills
Musculoskeletal structure
Neuroscience
Pathology
Pharmacology
Sociology
Once they're done with all classroom studies, physical therapy students work with a licensed therapist for many weeks. Most programs require 27.5 weeks of hands-on training, during which trainees work one-on-one with patients under their trainer's supervision.
When it comes to helping your dad with severe arthritis pain, a physical therapist's training in muscle structure, pain management, kinetics, and reasoning all help develop a comprehensive treatment plan. Here's what your dad can expect when working with a physical therapist to ease arthritis pain.
What to Expect During an Appointment
When you take your dad to physical therapy, his first appointment will include tests to determine his range of motion. Once his physical therapist knows how far he can bend, twist, or move a joint, a plan is developed.
Exercises that strengthen the core muscles come first. A strong core helps balance and stamina. Strength training helps tone the core muscles and also strengthens his hip muscles. As his muscle strength improves, his joints have more support, and that eases arthritis pain.
Exercises are done in groups with repetition. Your dad will master them under the supervision of his physical therapist, but he also needs to do them at home. He can't slack off, as that can undo all the work his physical therapist is helping him achieve.
Massage therapy is also useful to ease arthritis pain. This works by using massage to loosen the muscles around a joint. That allows more movement within the joint for more flexibility and mobility.
Sometimes, other treatments are added for pain management. This can include electrical stimulation therapy or the use of hot and cold compresses. Electrical stimulation therapy targets the nerves and can help block pain. Your dad may need to start using over-the-counter medications like ibuprofen or acetaminophen to ease the pain and inflammation.
If your dad is overweight, he may also learn that weight loss will be essential. His physical therapist or doctor might recommend he also work with a dietitian to find a dietary plan that helps him with weight loss.
Arranging Physical Therapy for Arthritis Pain
How do you arrange physical therapy? Talk to your dad's doctor. He may need a referral. Once your dad has the referral, call the physical therapy office and schedule a consultation. This gets your dad started with a physical therapist.
If you or an aging loved one are considering Physical Therapy in Kendall West, FL, please contact the caring staff at Angel Home Care Services today. Call (305) 220-4544
A Trusted Home Care Agency in the Kendall, West Kendall, Kendall West, South Miami, West Miami, Coral Gables, Coconut Grove, Doral, Cutler Bay, Sweetwater, Florida and surrounding areas.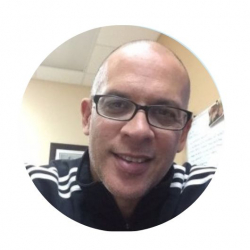 Latest posts by Claudio Alegre
(see all)