In northern states, the arrival of spring brings the breeding season for ticks. This means people have to be very careful when they're in their yards, forest paths, or fields as some ticks carry diseases. National Lyme Disease Awareness Month happens in May because of this. Learn more below about Lyme disease and why occupational therapy is beneficial if it's affecting your mom's health.
30,000 Cases Are Reported to the CDC Each Year
Every year, there are 30,000 cases of Lyme disease reported to the CDC. There may be far more, but some people don't realize they've been bitten by a tick and may not realize they have it. Because of this, it's estimated there are actually 476,000 more like cases of Lyme disease each year.
The Most Common Indicator Is a Rash
If a tick is removed before 24 hours pass, you can prevent Lyme disease. But, not everyone realizes they've been bitten. The next sign is a large bull's-eye rash that can be up to a foot in size. You may not even feel the rash, so unless it's in an obvious area, you may never notice it.
Other Symptoms Resemble the Flu
The other common symptoms of Lyme disease are a fever, chills, joint and muscle pain, headache, and fatigue. As those are very common with the flu, it's also easy to miss them if you're not thinking about where you've been lately.
Symptoms Change as the Disease Advances
More people realize they have Lyme disease after the early stages. Bell's palsy, swollen knees, heart palpitations, severe arthritis, shooting pains in the hands and feet, and inflammation in the brain can cause cognitive issues that resemble Alzheimer's.
What Can Occupational Therapists Do to Help?
How does occupational therapy help with Lyme disease? One of the biggest complaints is the joint pain and stiffness that impacts mobility. An occupational therapist can help your mom find ways to complete routine tasks, even if the pain is bothering her.
Her therapist also helps her find effective ways to manage the pain, whether it's heat therapy, over-the-counter medications, or massage. They'll discuss exercises that help her loosen a stiff joint, move around, and improve balance and stamina.
Occupational therapists can help your mom come up with better ways to manage her daily routines. If her fingers are stiff, she may find it difficult to button a shirt or zip her pants. She can learn how to use adaptive equipment to make these tasks easier.
Ultimately, the goal of an occupational therapist is to ensure your mom can do the things he enjoys. She shouldn't have to stop living due to the pain and discomfort Lyme disease caused.
Talk to your mom's doctor about her health and ask about the benefits of occupational therapy. After that conversation, you can arrange an initial occupational therapy appointment to determine how best a therapist can help out.
If you or an aging loved one are considering Occupational Therapy in Kendall, FL, please contact the caring staff at Angel Home Care Services today. Call (305) 220-4544
A Trusted Home Care Agency in the Kendall, West Kendall, Kendall West, South Miami, West Miami, Coral Gables, Coconut Grove, Doral, Cutler Bay, Sweetwater, Florida and surrounding areas.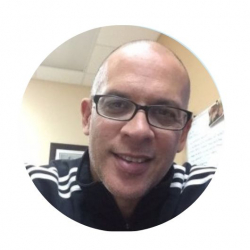 Latest posts by Claudio Alegre
(see all)